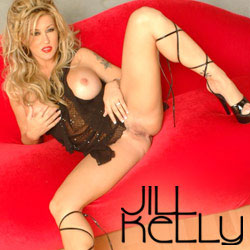 There comes a time in a lady's life when she turns from ripe young virgin to rolling and frolicking adult and then to old milf, cougar, whatever you want to call it. It happens to everyone and it's not necessarily the demise of the porn starlet, it just means that her target audience is changing.
I'm sure this is not the first time that Jill Kelly has been called a MILF, but it's the first time she's features on babe o Ramas and she's an older babe compared to most of the other talent featured here.
Born February 1st 1971, as of today she is 39. Not quite the big Four-oh (40) but pretty damn close. Think of Courtney Cox – she turned 4-0 and then the wrinkles came, the wise ass cracks and other old lady type of attitudes followed her. I'm sure if she were to be in a porn flick anyone would watch, she's a hot cougar for sure. But back to Jill kelly.
Chances are you've seen her in action at some point in time. She's been in so many movies that she;s a common actress and she knows what to do. She's very good which is obvious since she's been so successful for so long.
She's been in over 600 porn flicks. 600! that's allot of sex partners! I bet she gives great head! She's won numerous AVN awards and has been married 3 times. It never worked out but when you're married to a woman who fucks other men over 600 times in her career.. jealousy issues could easily abound. It's best that she stay married to her career since by now she's no doubt a millionaire many times over. Check out the well endowed, well known jell kelly if you haven't already done so.