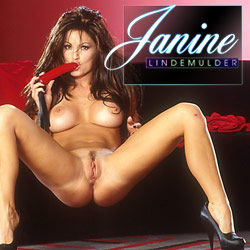 She's a well known porn star, making her first nude appearance back in 1987 as the Pet of the Month in Penthouse magazine. She's slowly working her way to become one of the hottest MILFS and is a fantasy for guys who like a pro.
Recently she made headlines in the tabloids as speaking out against Jesse james and his infidelity. She was married to Jesse James from 2002 – 2004 and experienced his ways early on. She spoke out on Sandra's side. This publicity also re ignited some interest on her as she may have fallen on the wayside by lots of young and new upcoming porn stars.
She tried her hand at acting in her early career. She was in a few B-rated movies but never seemed to launch any further. Like many hot women who can't act, she found her way stripping naked for photo shoots and of course followed by porn.
Vivid caught on to her assets very quickly and invested in her by making her a Vivid girl in the early 90′s. This of course catapulted her fame because of the backing of this popular porn studio.
She announced her retirement in 1999 and it only lasted until 2004. Publicity stunt? Who really know, only her and her manager know the truth behind this. Some bands announce retirement only to come back to make a tour and have more fans then veer come by. I think it was to boost her popularity, of course it worked, she was signed back onto Vivid right away and then once that expired she moved up to Digital Playground which has porn movies a little more risque then before, this was her move into more hardcore films such as sex toys play and double penetration as well as more girl on girl action. She's had lots of success winning 7 AVN awards.
Today on Babeoramas.com we like to re-ignite the flame that you used to have for Janine, don't forget about her, she's still as hot as ever and does some nasty things to make you smile. Check out Janine's dedicated website for some hot erotic action from this seasoned pro.