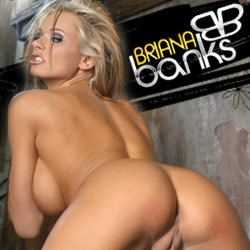 This girl is of incredible fame, her ass spreads nice and wide, she has arguable one of the most perfect pussies seen in porn in a long time. In fact, she's so hot that Doc Johnson has cast her in a full size exact replica sex toy for men. Her vagina is so complete and perfect that her big pussy lips are right there, spread in front of you. She must have been a gymnast at one point of time because this girl can flex.
She's mega hot too, the epitome of porn star. You think perfect porn star, all American girl, you think Briana banks. I bet you didn't know that she was born in Germany, infarct she was born in Munich. Germans make great stuff, look at their cars, they are the perfect specimen, other car manufacturers make their cars after the German models and the porn star world is no different Briana banks is what other women want to be. She has no inhibitions and shows herself proudly. If you looked like that wouldn't you do the same?
It all began in 1999 when she response to an ad to do a nude shoot. The photographer was so impressed, he suggested she do porno films, to make a long story short, that is how it all started! She climbed up the ranks after having her boob job which is a spectacle to behold in itself. She posed for penthouse and was girl of the year, no doubt. Then she signed with Vivid entertainment one of the largest porn studios ion the land. Any woman who signs on with them is an instant success.
One of her best films to date is the won the award of "Best Selling Title of the Year", which was Briana Loves Jenna released in 2003. It's one of guy's favorite shows, it consist of her and the super human Jenna Jameson together, that's a wet dream come to life. When you are searching your porno, put away the amateur for a while and set your sights on the expert porn star, Briana Banks.
Some of her more recent works that are worth watching are as follows: Where the Boys Aren't 19 (2008),  Backyard BBQ (2005) , Briana Extreme (2009), Best Deep Throat on the Planet (2005),  Blondes DeluXXXe (2005),  Briana Banks won the best actress award at the 2008 AVN Awards  for her work in the film Layout. That film wonmany other awards too and is a Briana banks fa must-see.
She has among the longest legs in the industry, almost model like figure which is why she took tha last name "banks" after model Tyra Banks. She impresses with her leggy looks. Her chest is a plump 34 DD and anyone who has seen her with a shirt on can attest to this voluptuous figure!